Announcing the Desert Northwest
2013 OPEN HOUSE DATES!!!
May 31 - June 1, Friday and Saturday ONLY!*
July 26 - 28, Friday through Sunday!
September 6 - 8, Friday through Sunday!*
ALL 9:30 - 5:30ish!
Browse our unique inventory including our entire mail-order selection and larger/specimen sizes!
Mail-order Availability · Retail/Specimen Plants
Please note that payment is by cash or check only.
To find us: Follow US 101 to Sequim. Exit at River Rd. and turn south (If coming from Seattle, this is one exit beyond the Sequim City Center exit, and is a left turn.) Turn Right on W Silberhorn Rd. Turn left on Alice Park Lane. We are at the end, #172.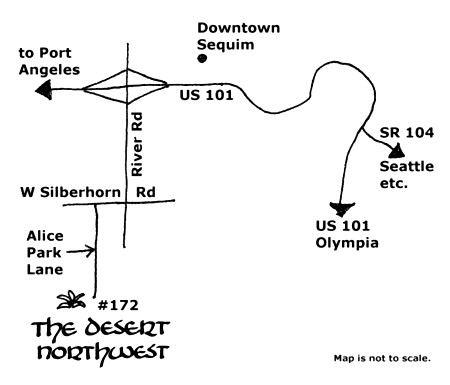 TRAFFIC ADVICE: Traffic on US 101 and SR 104 can be somewhat heavy but is not usually an issue that weekend. If you have to catch a ferry, avoid traveling westbound the evening of August 31 and the morning of September 1, and eastbound September 3rd after about 1 pm.
Also, click HERE for our complete list of regional plant sales and open house dates in 2013!
*We regret having to change a couple of these dates. Some of our other commitments made late changes requiring us to follow suit. It's early on so hopefully this doesn't mess up anyone's plans too much.